Games and projects
Facebook
readfile ('store.php'); ?>
The Ro(c)k Con Artist
Release in EU: 2007

Publisher: IDEA games

Game type: Road game

Technology: CPAL3D

Language versions: CZ, EN

Official movie website: www.rockpodvrataku.cz

Expert comment:
This tractor will go high!

(Ruda Šetula, retired gamester)
The Storyline
The Rock Con Artists is the first Czech game based purely on a feature film. The film itself comes from the authors of popular teenager comedies Snowborďáci (Snowboarders) and Rafáci (Rafters) and it's expected that both the forthcoming film and game'll attract similar audience.

Thanks to the efforts and the common of vision of the film and software crews it is certain that the computer game will result in a teenager road-game about a band of four rockers who made up their minds to get new instruments even if that meant messing with the local mafia.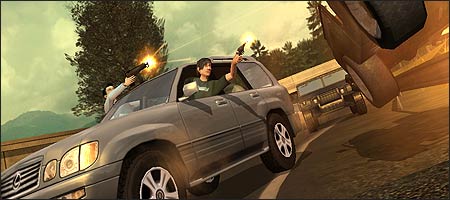 Apart from being gifted musically, the guys have another outstanding talent - the unique gift of producing trouble. That's why they're soon hunted by half of the people in the town, and not just because they tried to blackmail the mafia boss. Horny punk females, Internal Revenue Service staff, gangsters - they're all out to get 'em.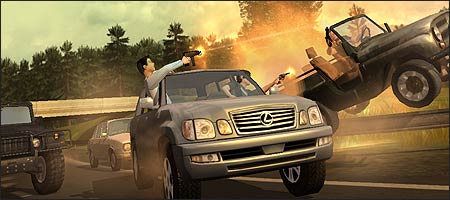 Playing the Game
The game design's that of a 3D chase arcade. The player controls the vehicle with the four heroes who lean out of the windows, holding a gun in each hand and fighting more numerous and usually better armed enemies. The game's full of wild shoot-outs at high speed. To calm down for a few moments, you get regular opportunities to get new weapons and a better vehicle.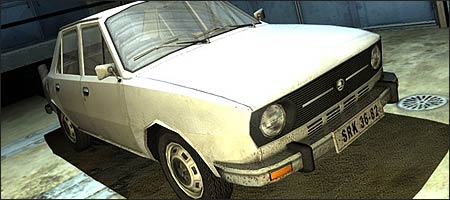 The guys make up for the lack of money to buy new weapons by their creativity. They don't hesitate to use outdated, nearly museum-like weapons found in their folk's homes or the things that weren't meant to be weapons in the first place. As for their vehicle, the musicians approach it in the same DIY manner. No wonder their driving soon turns into the rage of furious four-headed hydra that leaves devastation and a load of surprised enemies behind.
If it's a tractor, it's a Zetor
The vehicle fleet stands in a category of its own. Several makes of real vehicles are used in the game and players can adjust them as they like. All of us drivers will love to choose Lexus LS 430 or SC 430. However, the unique offer of your good old Skoda, Avia or Zetor will also be hard to resist. And if you equip them with a machine gun or a tennis ball machine there's no doubt whatsoever that you're in for fun.
Worth noticing
Explosive action with dozens of modern guns along with World War I, World War II and Vietnam war guns
Shoot-outs with walkers and riders
The laws of physics as part of playability
Fighting enemies with the help of special features such as pulling obstacles into pursuers' way, pouring oil on the road, emitting smoke etc.
Fully utilized modern 3D engine with all the features that a contemporary game should have
Game screenshots