Games and projects
Facebook
readfile ('store.php'); ?>
Pat & Mat




BUY: on Steam

Release in EU: 2010

Publisher: IDEA games

Game type: puzzle adventure game

Game platform: PC

Technology: CPAL3D

Language versions: CZ, EN

Official website:
www.patmat-game.com

Expert comment:
Well done!

(Ruda Šetula, real expert)
Pat & Mat: the Game is casual game featuring never used before brand for video-games and perfect reconstruction of stop-motion TV series assets in interactive world.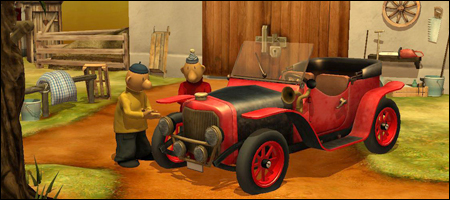 Game Concept
Player, taking control of Pat and Mat characters, solves various tasks in the game. The very basic controls are similar to strategy or adventure ("point-and-click") games. Click on the hammer on the table and character will pick it up, click on the door, someone will open it (or tell you that you need the key first).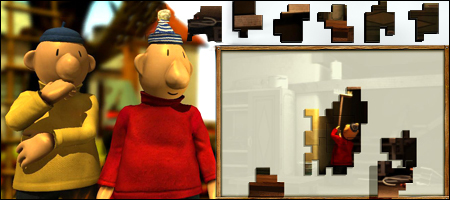 Settings
The game settings is based on original licensed characters with all environments to be used on all gaming platform. We have recreated Pat and Mat in 3D computer art and created dozens of animation sets including typical gestures and animations from the TV series. Although the game is 3D rendered in real time, it still looks like a very stylish stopmotion movie.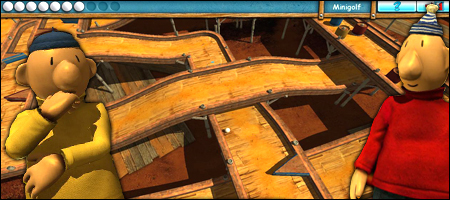 Main selling points:
World-wide known brand. (Pat and Mat are well known in many countries all over the world. Game doesn't just "use" the name – it really simulates the popular TV series on your PC.)
The very same Pat and Mat you know from your TV. (3D reconstruction of both puppets. The game looks just like the TV series)
Humor for everyone. (Funny animations, funny situations, funny actions all the time.)
Untypical problem solving. (Creating "the incredible machine" etc.)
Huge amount of "mini-games" and "micro-games".
Wide audience. (Everyone likes Pat & Mat – and everyone should like the game. It is for children – and their parents. Casual players will like the humor and easy-to-use controls, gamers will enjoy original approaches and non-typical puzzle solving.)
Trailer
Game screenshots