CPAL3D Engine
Facebook
News
Nov 16, 2010
We are planning a public release of the CPAL3D engine. Get in touch with us and we will let you know as soon as possible.
Oct 23, 2010
Added lots of postprocess shaders: depth of field, soft shadows, ambient occlusion, glow etc.
Jun 1, 2010
Added Steamworks and 3D vision support.
Apr 1, 2010
Added Lipsync system.
Jul 16, 2009
CPAL3D technology web page has been established.

Workflow
The page contains a CPAL3D engine workflow with its tools.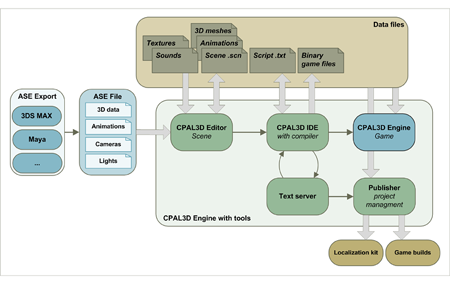 Click on image to enlarge it.
The project is the footstone in the CPAL3D engine. It is usually your game. The project includes all scripts, shaders, textures, sounds, models, animations and scenes which are necessary for the game.

The scene usually represents one level of the game. It can contain tens to thousands of various objects in one particular level and in the included scenes, which are used to share the objects among more levels (asset scenes).

All graphic, sound and other game data are loaded in a flexible tool called CPAL3D Editor. The tool is used for creating game levels, their lighting, for material and sound editing and even for asset management. The tool is mainly used by graphic artists, level designers and marginally by scripters.

IDE (Integrated Development Environment) is used to develop both game systems and simple scripts for cut scene sequencies. The scripts are being used by programmers, game designers or technical artists. The scripting language is transparent, easy to understand and specially designed for micro threading. IDE contains all functions which such a tool should have.

Everything is animated in the engine, the launcher of the game (in fact the editor core is based on the engine as well).

All texts in the game are managed with the text server. The text server communicates with IDE at the moment of development and with the Publisher at the moment of creating localizations for the games.

Finally the Publisher is used by developer or game publisher to create game builds, text translations and game CD/DVD authoring.